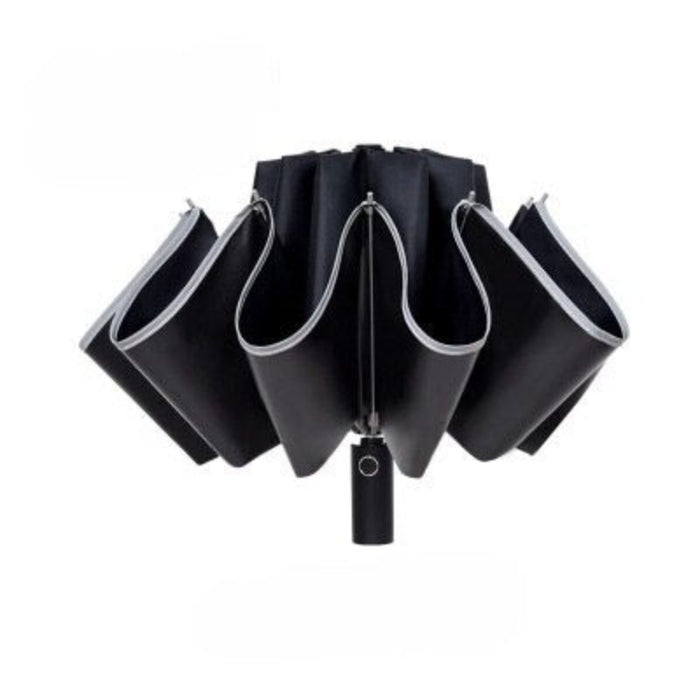 Automatic Folding Reverse Umbrella
In Stock
Introducing the Automatic Folding Reverse Umbrella, the ultimate combination of style, convenience, and functionality.

This innovative umbrella is designed to make your life easier while keeping you stylishly protected from the elements.
Its automatic operation, durable nylon fabric, and stylish design make it the perfect accessory for staying dry and fashionable in any weather.
FEATURES:
Reversible Design: Say goodbye to messy drips and wet floors. The reverse folding design of this umbrella ensures that the wet side folds inward when closed, keeping you and your belongings dry.


Fully Automatic: With just the press of a button, this umbrella automatically opens and closes, providing ultimate convenience and ease of use. No more struggling with manual operation.


High-Quality Material: The umbrella is made from durable nylon fabric, ensuring long-lasting performance and protection. It is designed to withstand the sun and rain, providing shade on sunny days and repelling raindrops during showers.


Stylish and Trendy: Available in a variety of colors, this umbrella adds a touch of style to your rainy day ensemble. It is suitable for all genders and makes for a perfect gift for any occasion.
SPECIFICATION:
Product: Sunny and Rainy Umbrella
Pattern: Three-folding Umbrella
Control: Fully-automatic
Upgrade your umbrella game with the Automatic Folding Reverse Umbrella. 
Embrace the convenience and style of this must-have umbrella. ORDER NOW