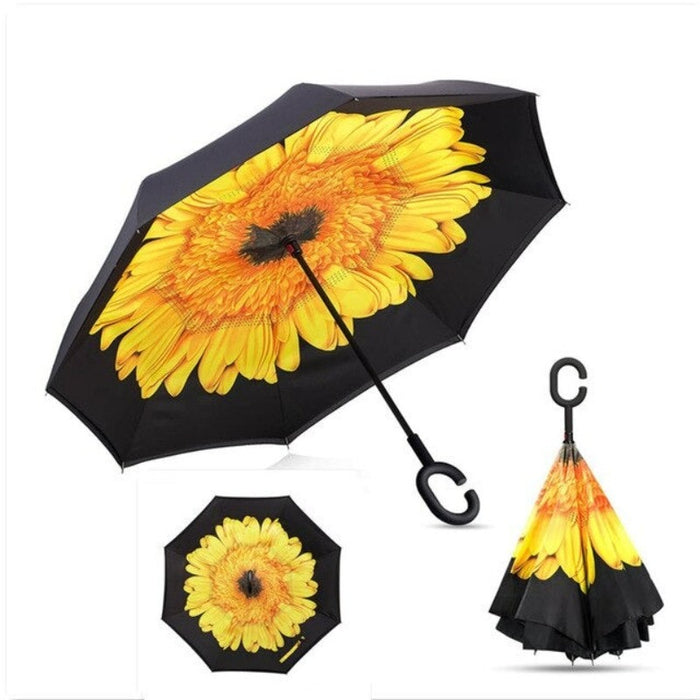 Reverse Umbrella Inverted Anti UV Umbrella For Men
In Stock
Introducing the Reverse Umbrella Inverted Anti UV Umbrella For Men, the perfect blend of style, functionality, and protection.

Designed with innovative features and a sleek design, this umbrella is a must-have accessory for any man on the go.

Enjoy the convenience of the inverted design, the protection against UV rays, and the durable construction that can withstand any weather condition.
FEATURES:
Inverted Design: Unlike traditional umbrellas, this umbrella features an inverted design, which means the wet side folds inward when closed. Say goodbye to messy drips and keep yourself and your belongings dry.


Anti-UV Protection: With a high-tech nano polymer compound in the outermost coating layer, this umbrella provides excellent water-repellency while also blocking 95% of harmful UV rays. Stay protected from the sun's rays while staying dry.


Durable Construction: The umbrella is built to withstand extreme weather conditions with its strong aluminum frame and heavy-duty ribs. The 100% polyester canopy ensures long-lasting durability and reliability.


Easy to Use and Store: Thanks to its unique design, this umbrella is easy to open and close with a non-automatic control. After use, simply shake off most of the water and fold it back, allowing for easy storage in your bag or purse.
SPECIFICATIONS:
Size: One Size
Panel Material: PONGEE
Control: Non-automatic Umbrella
Function: Rolling Over
Upgrade your rainy day style with the Reverse Umbrella Inverted Anti UV Umbrella For Men.

Stay dry, stay stylish, and stay protected with this must-have accessory. ORDER NOW