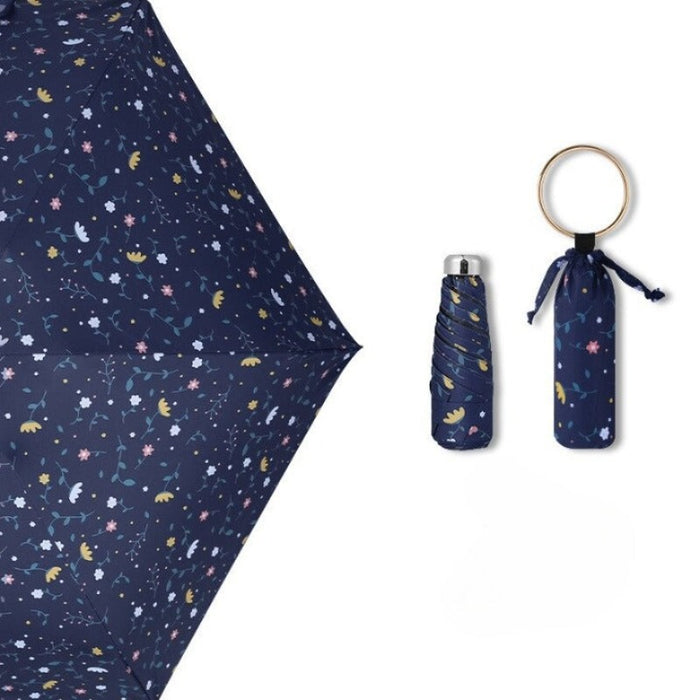 Mini Umbrella Five Folding Luxury Umbrella
In Stock
Introducing the Mini Umbrella Five Folding Luxury Umbrella, the epitome of elegance and functionality.

This luxury mini umbrella is designed with meticulous attention to detail, combining style and convenience in one compact package.
FEATURES:
Five-Folding Design: Experience the convenience of a compact and portable umbrella with its unique five-folding design. Easily collapse and expand the umbrella to fit into your bag or pocket, making it perfect for travel and on-the-go use.


Luxury and Sophistication: Crafted with an Aluminum Alloy Tube, this umbrella exudes luxury and sophistication. Its sleek and refined design is perfect for those who appreciate fine craftsmanship and attention to detail.


Variety of Colors and Prints: Choose from a wide range of colors and prints to match your personal style. Whether you prefer classic solid colors or bold and vibrant patterns, there's a design that suits your taste.
SPECIFICATIONS:
Size: M (Medium)
Product: Sunny and Rainy Umbrella
Material: Aluminum Alloy Tube
Panel Material: Black Coating
Control: Non-automatic Umbrella
Pattern: Five-folding Umbrella
Stay prepared for unexpected showers with the Mini Umbrella Five Folding Luxury Umbrella. ORDER NOW.