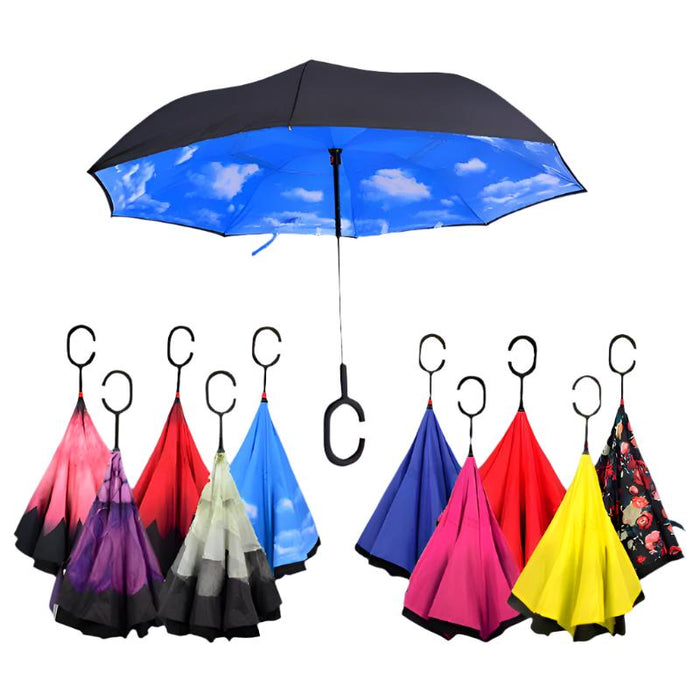 Smart-Brella - The World's First Reversible Umbrella
In Stock
If you've ever been stuck outside during a rainstorm and your umbrella was blown inside out by the wind, we understand your frustration. What's worse is when you get caught in the rain wearing your favorite clothes or your phone gets wet. Smart-brella is the world's first reversible umbrella! It closes inside-out, which prevents it from getting blown out and destroyed! Another reason you need Smart-brella's reversible technology is that it helps prevent puddles and watermarks from forming wherever you place it down.
Traditional umbrellas close downward, allowing the water to drip off as you move around. Not only is this messy, but it can also create a safety hazard when the floor gets slippery. Smart-brella collects water when it closes, so you can easily dispose of it in a neat, mess-free way! You'll never get your car or your house wet again after using the umbrella. This ultra-durable umbrella has a 55-61cm radius and an ergonomic handle for easy carrying.

Superior Performance - This exclusive Inverted umbrella is designed with durability, versatility, and comfort in mind. We constructed this umbrella with premium carbon fiber material which is sturdy, corrosion resistant and features double-layer canopy design to protect against UV rays and other harmful sun lights.
Ergonomic C-Shaped Handle - Walk comfortably hands-free while answering your phone calls, handle grocery bags, baby or even grab your kid's hands. The comfort grip C-Shaped handle allows you to slide over your forearm or wrist so you can attend what is more important


Newest Inverted Design - The mechanism of our beautiful windproof umbrella is inverted which gives you the ability to close from the inside-out when you open the door or access the lobby room without dripping water after heavy rain. This authentic model prevents getting the car or floor wet, thus keeping dry and clean
Windproof & Weather Resistance - What separates us from the competition is the maximum performance against heavy rain. It's the best windproof umbrella that withstands wind speeds in excess 60 miles per hour. Our stylish reverse umbrella is lightweight, compact, portable, quick dry, and corrosion resistance