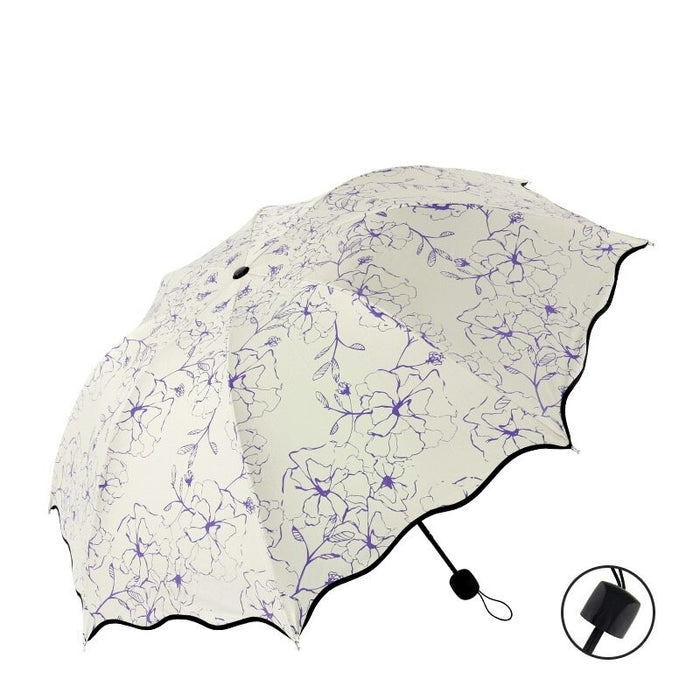 Chic Floral ANTI-UV Foldable Umbrellas
In Stock
Introducing the Chic Floral ANTI-UV Foldable Umbrellas, the perfect blend of style and functionality.

With its eye-catching floral design, this umbrella is sure to turn heads while providing excellent protection from both rain and UV rays.
FEATURES:
Stylish Floral Design: Stand out from the crowd with the chic and trendy floral pattern of this umbrella. Its vibrant and elegant design adds a touch of sophistication to your rainy day ensemble.


UV Protection: The umbrella's canopy is made from high-quality PONGEE fabric with an ANTI-UV coating, providing superior protection against harmful UV rays. Stay shielded from the sun's harmful effects while enjoying your outdoor activities.


Foldable and Portable: This umbrella features a three-folding design, allowing you to easily fold it down to a compact size for convenient storage and portability. Carry it in your bag or backpack and be prepared for sudden weather changes.


Durable Construction: The sturdy aluminum frame and heavy-duty ribs ensure durability and wind resistance, making this umbrella suitable for use in various weather conditions. The nylon fabric material adds an extra layer of waterproof protection.
SPECIFICATIONS:
Size: One Size
Material: Nylon Fabric
Age Group: Adults
Product: Sunny and Rainy Umbrella
Panel Material: PONGEE
Pattern: Three-folding Umbrella
Control: Non-automatic Umbrella
Function: All in 1
 Stay protected from the rain and harmful UV rays while adding a touch of style to your look. ORDER NOW.