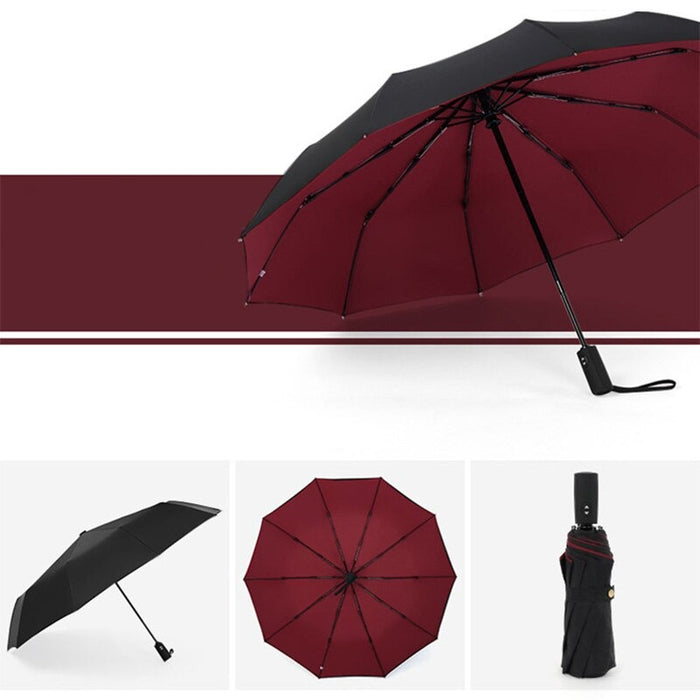 Windproof Double Automatic Folding Umbrella
In Stock
Introducing our Windproof Double Automatic Folding Umbrella, the ultimate companion for all weather conditions.

With its exceptional features and stylish design, this umbrella ensures you stay protected and look fabulous.

Here are the eye-catching features of this remarkable accessory:
FEATURES:

Windproof and Sturdy: The hybrid frame of Nylon and Pongee material provides maximum flexibility and durability, making this umbrella highly resistant to strong winds and heavy rain. You can confidently face the elements without worrying about your umbrella flipping inside out.


Automatic Opening and Closing: Experience convenience at its finest with the push-button automatic opening and closing system. This feature allows for easy one-handed operation, so you can quickly shield yourself from rain or open up the umbrella effortlessly.


Compact and Portable: The double folding design of this umbrella makes it compact and easy to carry. When not in use, simply store it in the included matching case for added convenience. It's perfect for on-the-go individuals who want a reliable and stylish umbrella at their fingertips.


Sporty Handle: The ergonomic handle adds a touch of sporty elegance to the umbrella. It provides a comfortable grip, allowing you to carry it with ease while adding a fashionable statement to your overall look.


Superior Materials: Crafted from high-quality 190T Nylon Fabric and Pongee, this umbrella offers exceptional water resistance and sun protection. The durable materials ensure long-lasting performance, making it a reliable companion for years to come.


Generous Size: With a 53cm radius, this umbrella provides ample coverage to shield you from rain or shine. The three-folding design offers versatility and allows for easy storage when not in use.
Whether it's a rainy day or a sunny one, the Windproof Double Automatic Folding Umbrella is your go-to accessory for reliable protection.

Stay dry, shielded from the sun's harmful rays, and stylish all at once.

Don't let unpredictable weather dampen your spirits – invest in this exceptional umbrella today!